Our Brewery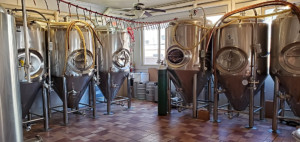 Cazuela's Brewery in Rio Rancho features a 7 barrel brew system with a brewing capacity of 600 barrels per year.
Our Brewery opens onto our large outdoor patio where you can enjoy our fountain, floral arrangements and a view of the Sandia Mountains. We offer live music on Friday and Saturday for your listening pleasure.
Our Brewery has 3 Large screen T.V.'s for all your favorite sports events. So come on in and enjoy a fantastic atmosphere of great Beer, Wine or Margaritas.
Some of Our Craft Beers include:
Acapulco Gold
Panama Red
Chupacabra
Papa-Cabra
Chingon
In addition to pints you can purchase our beer in Growlers, which are ½ gallon jugs of your favorite beer. Only $12.00 – $17.00 for the fill and $6.00 for the jug. You can also bring in your own Growler and we will fill it for you for only $12.00 – $17.00.
We also offer delicious Margaritas, Flavors include traditional Lime, Strawberry, Prickly Pear, Cherry and our Frozen Coconut Margarita.
We offer a 10% discount on Mondays for all Active Duty Military, Veterans and their Dependents.